"I sit on a man's back, choking him, and making him carry me, and yet assure myself and others that I am very sorry for him and wish to ease his lot by any means possible, except getting off his back."

(Lev Tolstoj, Scritti sulla Disobbedienza Civile e la Nonviolenza, 1886)
Bentornati su Unpredictablepast,
Nell'ultimo articolo sul Nagorno-Karabakh ho avanzato l'ipotesi che la ragione determinante dei conflitti post-96 fosse legata alla stabilità interna dei due paesi, piuttosto che ad obiettivi di guerra ben precisi. Ne sono ancora convinto, ma date le tante domande su quali altri paesi fossero più o meno direttamente coinvolti nel conflitto, mi rendo conto che mi è mancato di spiegare quella parte del problema. Spero che questo articolo chiarisca alcuni punti rimasti poco chiari.
While remaining convinced that a more obvious involvement of the countries in question remains a distant hypothesis, this does not mean that their governments are not trying to take advantage of the situation to "resolve" some internal issues. And obviously, in doing this they put an already problematic situation into a more precarious balance, and the fact that the conflict will probably not fully escalate doesn't mean that it will be less terrible.
Georgia
Il Paese Caucasico più vicino ai due contendenti è sempre rimasto neutrale nello scontro. Tuttavia, il fatto di ospitare numerose comunità di rifugiati armeni e azerbaigiani lo rende vulnerabile ed esposto alla destabilizzazione, qualora le due etnie minori dovessero radicalizzarsi al punto da scontrarsi o iniziare a sostenere la loro parte in modo violento. Inoltre, il governo di Tbilisi teme che le forniture di armi e aiuti dalla Turchia e dalla Russia, che devono necessariamente passare attraverso il territorio nazionale, mettano il Paese nella difficile posizione di non poter mantenere la propria neutralità al fine di preservare la propria sovranità nazionale.
Turchia
As explained in the previous article, Turkey and Azerbaijan are two countries united by very deep ties, so much so that they consider themselves "one nation". But these are certainly not the reasons that push Turkish President Erdogan to help the Azerbaijani "brothers": exactly as for his intervention in the Syrian and Libyan conflicts, what matters most to the country's enstablishment is to avoid confronting the deep economic crisis that affects the country since 2018, and keep the population "mobilized" in order to avoid internal turbulence. This is a task entrusted above all to propaganda, which continues to attribute the country's problems to external "machinations", and to spread this theory of a "Neo-Ottomanist" project, in which many, even among seasoned Western observers, firmly believe.
Per quanto mi riguarda me, la considero un bluff.
Basically, in addition to hitting the Kurds in northern Syria and sending around mercenaries picked up from the ranks of what was Daesh, Turkey has done very little else. The fact is that to wage a serious war, one must be able to afford it, and Turkey, in addition to it's economic crisis, has to deal with growing international isolation, following Erdogan's authoritarian squeeze in response to the attempted coup d'etat in July 2016, which was only the culmination of a democratic involution that the country has been experiencing for some time, and which has substantially alienated the country from the sympathies of its allies: while remaining formally within NATO, I do not believe that the other member countries would be willing to support Turkey and its President in any way.
Russia
Russia has traditionally supported Armenia (while selling armaments to both sides over the years), and even today its funding is directed there. Despite this, Russia can only limit itself to threatening and little more: the country has been severely hit by the global pandemic, both in terms of the number of victims and economic repercussions, due to the lower demand for raw materials. The war effort to keep Bashar al-Assad's Syrian regime going is already quite grueling, not to mention the internal problems in neighboring Belarus, and ultimately within itself.
Russia and Armenia have a mutual defense pact, as the Armenian Prime Minister Nikol Pashinian tried to recall (as already mentioned, who came to power without the consent of Russia, after the so-called "Velvet Revolution"), but in the Kremlin they pointed out that this is valid only if the clashes were to cross the borders of the Armenian territory, and therefore do not include the territories of the Republic of Artsakh, namely those of Nagorno-Karabakh. This quibble suggests that Russia is firmly determined to avoid direct involvement in the conflict, in addition to the fact that it does not tolerate the new Armenian administration, less prone towards it, and, who knows, hoping that as the conflict progresses it will be able to get rid of it.
Of course, the looming presence of Russia keeps a possible greater commitment by Turkey at bay, and, as has happened in the past, its military presence in the region is capable of stopping Azerbaijan's advance at any moment. But, despite this, it is a hard blow for the Russian enstablishment not to have a greater say in the matter and not be able to broker even a ceasefire, fearing to see what once considers as his own areas of influence pass under the protection of other patrons.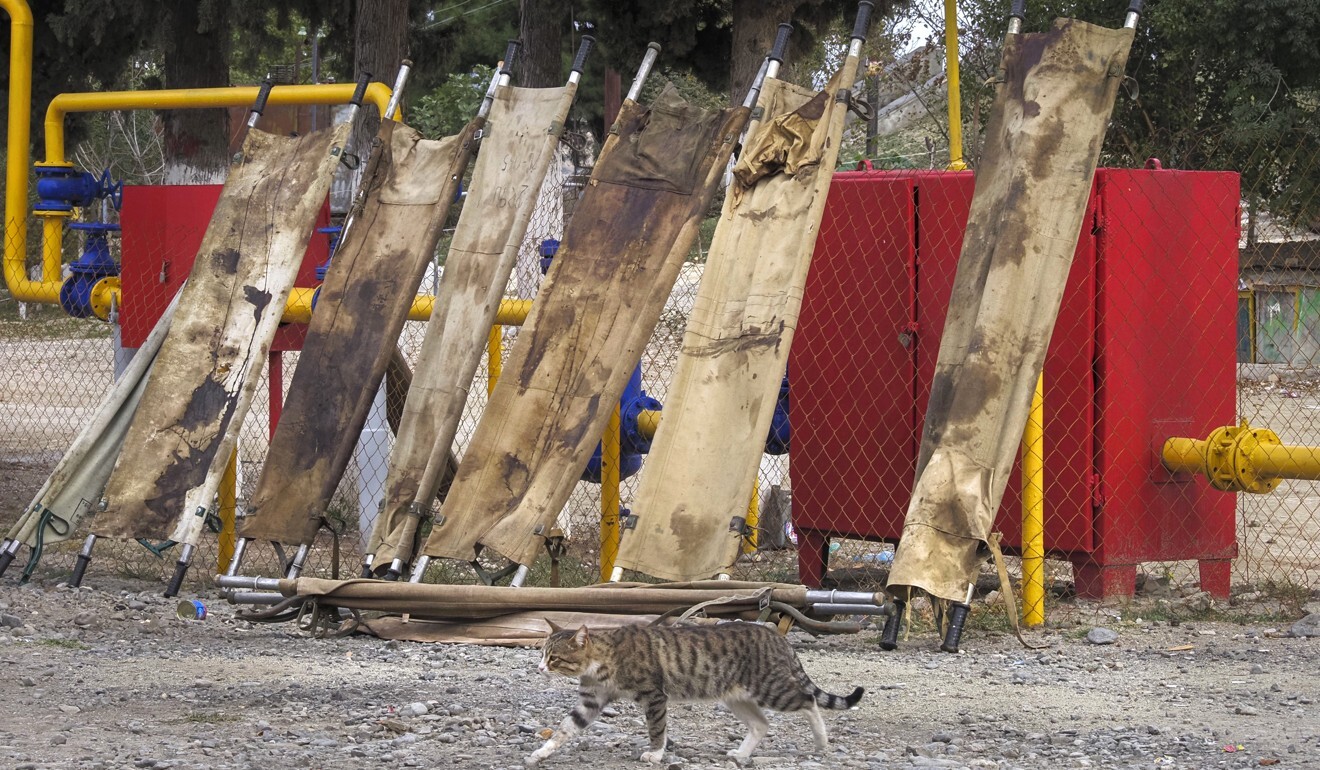 Iran
Nel tentativo di affermarsi come potenza regionale, l'Iran si trova anche coinvolto nella questione del Nagorno-Karabakh. Data la sua posizione lo è sempre stata, ma ora ovviamente la questione è diversa: la rivalità con la Turchia nel tentativo di polarizzare i paesi musulmani attorno ad essa, e lo scontro indiretto che i due Stati hanno combattuto durante la guerra civile siriana e nel nord dell'Iraq sono peggiorate. le loro relazioni, e questo ora riflette anche sulla questione del Nagorno-Karabakh. L'area a nord dell'Iran è infatti popolata principalmente da una popolazione turca di origine azera, che nell'ultimo mese ha spesso protestato contro il passaggio di rifornimenti e armi russe dirette in Armenia, passando per il territorio della Repubblica Islamica. Ovviamente gli ayatollah vedono l'interferenza turca in queste proteste e hanno reagito con una repressione brutale, temendo che un movimento separatista possa sorgere anche nelle sue regioni a maggioranza azera se le cose in Nagorno-Karabakh vedranno un cambiamento significativo.
Israele
Few people know this, but the relations between the State of Israel and the Republic of Azerbaijan are long-standing (think, for example, that post-Soviet Azerbaijan is one of the few Muslim countries to have recognized Israel as a nation) . Mainly these are trade agreements that see oil supplies from Baku in exchange for military supplies from Tel Aviv, and which are still ongoing. This has sparked some debate, as Armenia claims a "moral" affinity with Israel, as both Jews and Armenians have been subjected to a massive planned genocide. But Benjamin Netanyahu's realpolitik has shown us several times that he is not inclined to be convinced by this type of argument, and indeed, given the proximity (and as we have said, the hostility) between Azerbaijan and the Iranian arch-enemy, the Israeli government will do everything to keep such a valuable ally in a strategic position.
Cina
China has very strong economic interests in the region: as mentioned, for several years it has been trying to free the regions of the Caucasus from Russian influence, and in some ways, through the "Silk Road" project it is somehow succeeding, in discreet way we are used to, preferring commercial relations to armed threats. This time, however, there seems to be something slightly different: the weakening of Armenia would mean a further, and advantageous, weakening of the Russian presence in the area.
Oltre a questo, c'è il fatto che la Cina tende a sostenere paesi che rivendicano il principio della propria integrità territoriale, piuttosto che quelli che rivendicano il Principio di Autodeterminazione, avendo al proprio interno numerose regioni che rivendicano la propria autonomia da Pechino (in ordine di tempo abbiamo assistito all'oppressione degli uiguri dello Xinjiang e alla repressione delle proteste anti-cinesi a Hong Kong) e, in contrasto con il solito silenzio istituzionale, il vice segretario generale dell'Accademia cinese delle scienze sociali, Wang Jingqing , si è apertamente dichiarato a favore del ritorno del Nagorno-Karabakh sotto il controllo dell'Azerbaigian, al cui territorio dovrebbe ufficialmente appartenere.
Conclusioni
In mezzo a questo gioco di forze opposte, ci sono le vittime militari e civili, il cui numero continua ad aumentare (anche se le due parti sono spesso riluttanti a riportare dati corretti), e, per il momento, non si vede all'orizzonte. la possibilità di un cessate il fuoco duraturo raggiungibile a breve termine.
For my part, I hope the situation is clearer to those who have asked me about it. Also I would like to remember what was said above, namely that this is not some kind of game just because we watch it from afar: it is much more important to focus on the issue from a human and humanitarian point of view: exacerbated nationalism, ethnic hatred. and the Enemy's "stabilizing" desire are much closer than we think, as John Donne said in his famous sermon:
"…And therefore never send to know for whom the bell tolls. It tolls for thee."

(Meditazione XVII, 1624)
Grazie per aver letto queste righe, in cui ho cercato di riassumere la situazione che circonda la guerra del Nagorno-Karabakh, spero che abbiano risposto alle vostre domande, per il resto potete contattarmi come preferite.